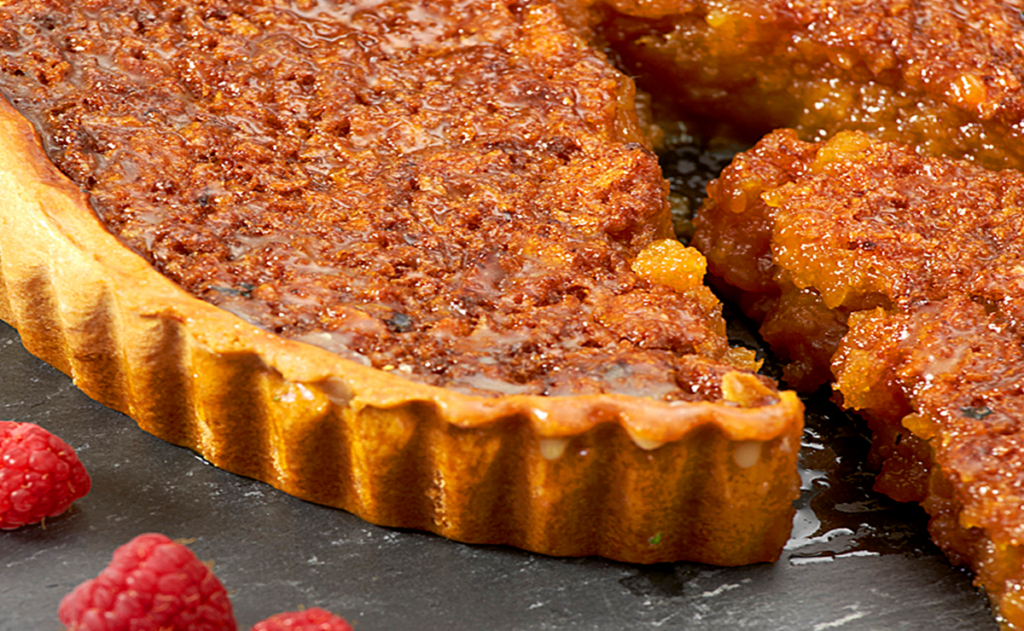 (serves 8)
INGREDIENTS
Shortcrust pastry
170 g plain flour
Pinch of salt
100 g butter
1 egg yolk
2 tbsp iced water

Filling
450 g golden syrup
Grated zest 1 lemon
2 tbsp lemon juice
1 tsp ground ginger
3 eggs, lightly beaten
115 g fresh white breadcrumbs
METHOD
1. Preheat the oven to 190 C/375 F/Gas Mark 5.
2. Place the flour, salt and butter in the bowl of a food processor fitted with a steel blade. Pulse gently until the mixture looks like breadcrumbs.
3. Whisk the egg yolk with the iced water; this will prevent the pastry becoming streaked with egg yolk.
4. Carefully pulse the machine whilst adding the egg mix you may not need it all until the mixture looks like it is starting to come together.
5. Tip onto a lightly floured work surface and gently bring together to form a smooth dough – at this point it is very important not to over work the pastry or the gluten content will make the pastry tough and heavy.
6. Chill for half an hour.
7. Carefully line a 20 cm tart tin with the rolled-out pastry and chill once more before filling.
8. In a separate bowl, mix the syrup with the grated lemon zest and juice, then add the ginger, eggs and breadcrumbs.
9. Carefully pour the filling into the pastry case and bake for approx 30 minutes.
10. Reduce the oven temperature to 150 C/300 F/ Gas Mark 2 and bake for a further 20 minutes, or until just set.
11. Serve warm with cream or custard.