The joy of Christmas food
For my family and I, the food is the centrepiece of Christmas (and many other days!). From the time we spend planning all of the delicious dishes to the food shopping, cooking has always been the main event. I love how food brings people together and this is what inspired me to start my catering company and Lil' Miggins.
Christmas has always been a joyful time of year, and even though 2020 has been packed with unprecedented and difficult moments, I still believe that this Christmas can be enjoyed to the fullest! It may feel different with rules and regulations in place, such as social distancing and the limited list of who you can spend the day with. But there is one thing that can remain the same; the food!
The bonus is that the food we eat on Christmas Day is just the beginning! Boxing Day and the days that follow are just as exciting thanks to the abundance of leftover food. This is when it's time to get creative with the turkey, veg and desserts!
The food you eat over the festive season doesn't have to be boring. Say goodbye to those plain turkey sandwiches as there are some fantastic ways to spruce up what's left over! One such method is simply to add some deliciously sweet or savoury chutneys to your cheese board, expanding the combinations of flavours that can be enjoyed. Our Christmas chutneys and relishes are perfect for this… and they make for excellent presents too – why not jot it down your gifts-to-get list? Nothing brings out a beaming smile like food does.
You can also get creative with your leftover meat. My favourite way to do this is by making Indian spiced turkey croquettes. They bring a whole new flavour to the turkey and offer a different way to enjoy the tasty meat. Cooking provides the family with a great activity to entertain in the week between Christmas and New Year that can often just float by without much happening.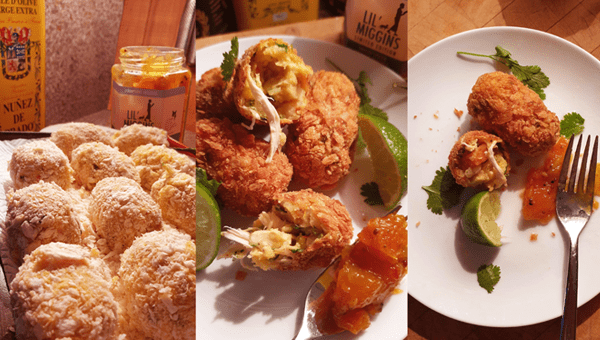 INDIAN SPICED TURKEY CROQUETTES
Scrumptious way to use Christmas turkey leftovers
INGREDIENTS
350g peeled floury potatoes
200g cooked turkey meat shredded or chopped small
2 tbsp butter
3 cloves of crushed garlic
2/3 finely chopped red chillies
1 small finely diced onion
6 tbsp Lil' Miggins Indian spiced squash chutney
Salt and pepper
1 small bunch chopped coriander-reserve some for garnish
2 eggs + 2 yolks
50g plain flour
70g panko breadcrumbs
Sunflower oil for frying – enough to half fill your fryer
TO SERVE
8 tbsp Lil' Miggins Indian spiced squash chutney
Juice of 2 limes + lime wedges
Reserved coriander
'GATHERING' TALES OF A CATERING FAMILY 
Includes more delicious recipes by DEBORAH STEWARD
METHOD
1. Boil and mash the potatoes, leave to drain and dry out slightly in a colander then mash and leave to cool for 10 minutes.
2. While the potatoes are cooking gently fry the garlic, chillies and onion until soft.
3. Add the turkey, potatoes, onion mix, coriander, 6 tbsp chutney, yolks, along with salt and pepper. Mix together well and chill for 1 hour.
4. Remove from fridge and with floured hands gently shape the mixture into cylinders about 4 cm long.
5. In a separate bowl mix the other 6 tbsp chutney with the lime juice and put to one side.
6. Have the flour ready in a dish and carefully roll the croquettes in it, a few at a time, holding them carefully and gently. 
7. Shaking off any excess flour. Next roll them in the beaten eggs and finally the breadcrumbs.
8. Heat the fryer to 170 -180 degrees and fry the croquettes a few at a time for around 5 minutes, until  crisp and golden.
9. Drain on kitchen paper and serve with the chutney, lime wedges and remaining coriander.
INDIAN SPICED SQUASH CHUTNEY
Made with Crown Prince squash this has all the flavours of mango chutney. With a touch of chilli, garlic and ginger this is both sweet and savoury and ideal served alongside your favourite curry.