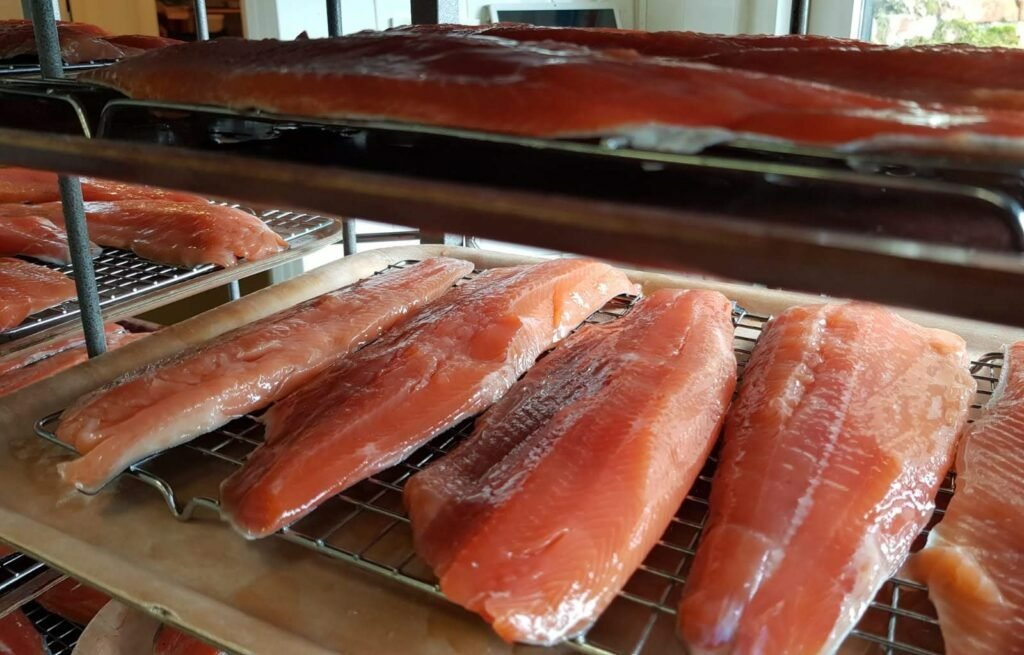 For as long as I can remember my dad had fished. Around six years ago he taught my husband Kevin and me to fly fish. At first, it was so frustrating. For example, when the line occasionally got caught in the trees I remember once being told rather drily: "there's not many up there!" Even worse though, was when I hooked myself which is not to be recommended! But eventually, we got the hang of it.

After teaching us both to fish, dad then taught us how to hot smoke the trout. With great results, I am happy to say and we even served it at a Royal garden party!

I feel trout is a much-underrated fish. Salmon is so widely available and cheap it is often the automatic choice but any recipe you can do with salmon is equally successful with trout – and, what's more, it is the perfect size for one or two people.

Lightly seasoned with salt and pepper, briefly fried in a little butter and sprinkled with chopped herbs, finished with a good squeeze of lemon, it is a real treat. Served with a few baby potatoes and a crisp green salad on the side, it is simplicity itself. What's more, you can have it on the table in less than 15 minutes.

Smoked trout pâté is both very simple to make and makes a quick and delicious summer supper, alongside some crusty brown bread, a few cherry tomatoes and a spoonful of our Lil' Miggins bread and butter pickle.
SMOKED TROUT AND HORSERADISH PÂTÉ
Serves 4 as a starter or 2 as a main course



INGREDIENTS

250g of hot smoked trout fillet, skin removed

1tbsp of crème fraîche

1 level tsp of caster sugar

1tbsp of lemon juice

1tsp of coarsely ground black pepper

1 small bunch of finely chopped dill or chives

1tbsp of baby capers – optional
METHOD

1. In a mixing bowl place the horseradish, crème fraîche, sugar, lemon juice, pepper and dill or chives and capers and mix well Carefully break up the trout into pieces and stir through.

2. Try not to over mix as you want to be able to see the flakes of fish in the finished pâte, add a little more lemon juice if necessary Place into a serving bowl, cover and refrigerate until needed.