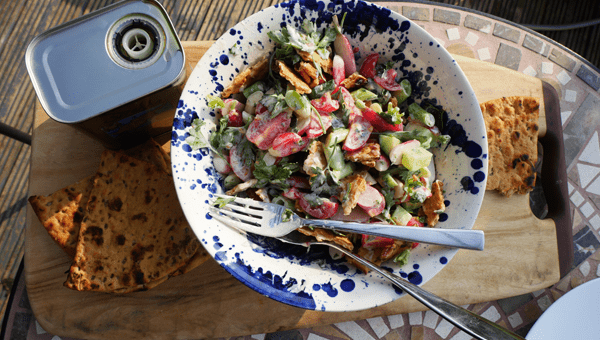 INGREDIENTS
2 large Turkish flatbread or naan

150g radishes, halved, leaving a few of the green leaves on if possible
4 spring onions, thinly sliced
20g mint leaves, torn in half
25g flat leaf parsley, roughly chopped
1 tbsp dried mint
2 garlic cloves, crushed
5 tbsp lemon juice
80ml olive oil, plus extra to drizzle
2 tbsp Lil Miggins sweet chilli jam
1 1/2 tsp salt
1tbsp sumac, plus to garnish
METHOD
1. In an oven heated to 180°C, carefully toast the bread or naan until golden brown and slightly crispy, tear into bite size pieces and leave to cool.
3. If you are serving it straight away, place all the remaining ingredients in a large mixing bowl mix well and leave for 10 minutes for all the flavours to combine. If you wish to serve the salad later add the bread 10 minutes before serving.
4. Spoon the fattoush into serving bowls, drizzle with the extra olive oil and sprinkle with sumac.