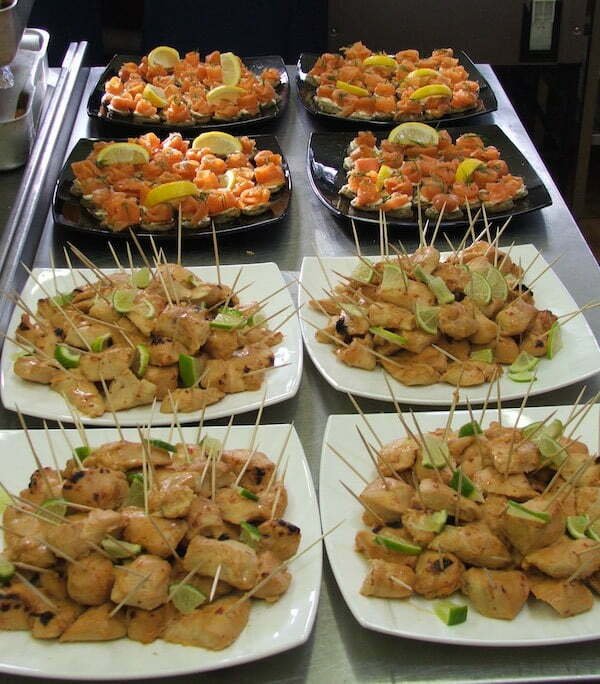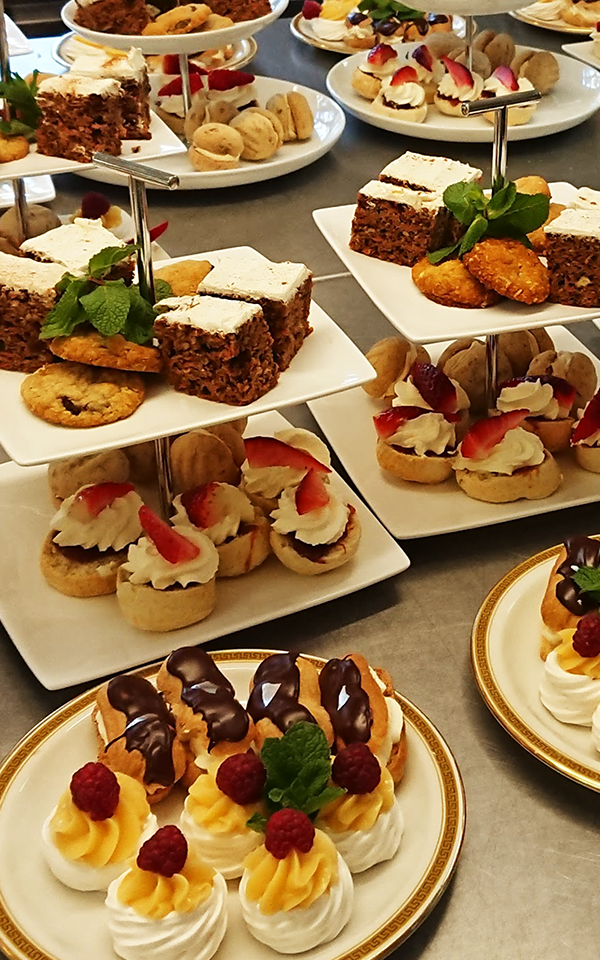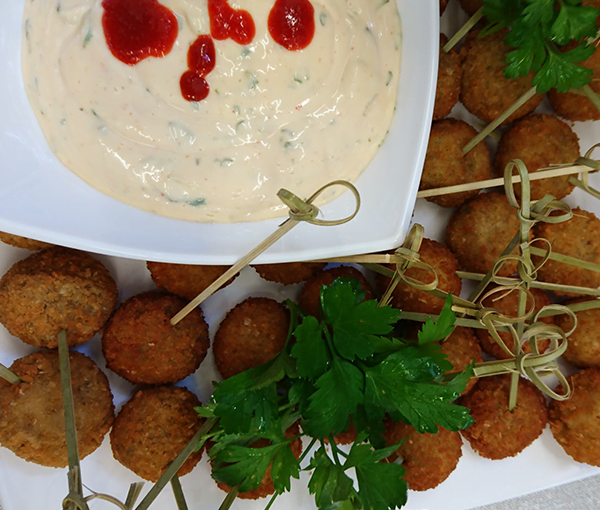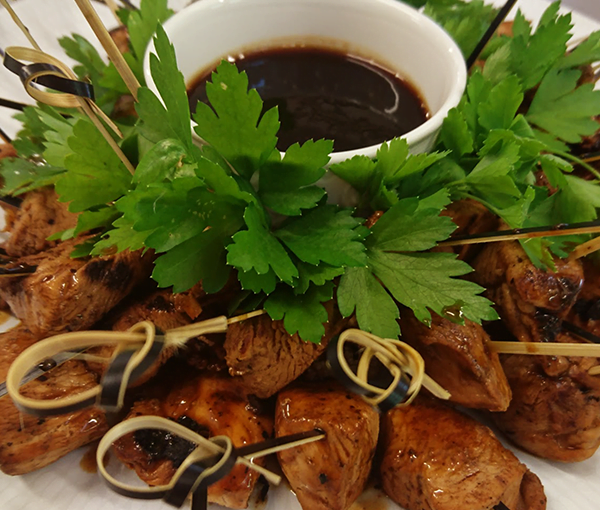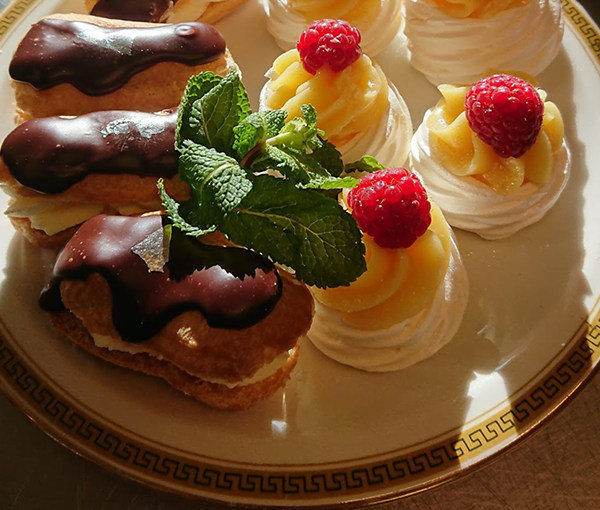 Our Facilities
All of the events we cater for and manage, start out in our kitchens at Houghton St Giles, North Norfolk. This is also where all the products for our Lil' Miggins range are produced.
Canapé Receptions
Make your event into something special with a selection of our irresistible Canapés, made to the same degree of excellence which earned us the Royal Warrant. We work with you to design the perfect event, using the food to create a sophisticated or informal atmosphere – whatever suits your needs. Our canapés are made from the finest, locally sourced ingredients and served to your guests by our professional team.
Bowl Food
Small but perfectly formed, bowl food dishes are a perfect middle way between canapés and a full meal. Bowl food is served in ceramic bowls and designed to eat standing up, they are both a substantial and stylish alternative to canapés. The bowl food menu can be designed and served in keeping with the theme of your event.
Afternoon Tea
What could be a more perfect treat than a bespoke afternoon tea. Choose from a selection of our sandwiches, homemade cakes and pastries along with freshly baked scones, preserves and clotted cream.
Funerals
We know from personal experience how stressful organising a funeral can be. Having informed family and friends of the details and arranged the service, you will want to spend time after the funeral with your guests. We will guide you on what to offer your guests in the way of refreshments. You can rely on us to look after your guests, our team understand how important and special this day is to you.
Suggested Menus
Using local and seasonal food we have developed a selection of fabulous dishes, made with the finest ingredients and beautifully presented. Below are a few examples, please contact us for a full list of our menus.
Canapés
Meat Selections
Chicken liver parfait on tiny walnut scones with red onion relish
Crunchy Thai chicken and peanut cakes
Honey spiced lamb skewers with minted cumin dip
Marmalade and thyme glazed chicken skewers with wholegrain mustard dip
Pork noodle balls with hoisin sauce
Pork, ginger, orange and pepper skewers
Rare beef and horseradish cream in poppy seed cups
Serrano ham and roasted red pepper crostini with black olive purée
Fish Selection
Baby choux buns filled with crab mousse
Baby smoked haddock fish cakes with caper and parsley crème fraîche
Filo baskets filled with smoked salmon and lime crème fraîche
Lemon chili prawn sticks with avocado cream dip
Moroccan spiced tiger prawns with minted yoghurt
Potted home smoked trout on baby herb muffins
Quails egg and smoked salmon croûtes
Roasted red pepper, anchovy and Wighton cheese crostini
Vegetarian Selections
Artichoke and aubergine hummus with cheese straws
Binham blue cheese, walnut and roasted garlic tartlets
Caramelised onion, camembert and garlic croustades
Cocktail corn cakes with spicy mango salsa
Marinated mozzarella, cherry tomato and olive skewers
Parmesan mushroom tartlets
Parmesan, black sesame and Dijon mustard allumettes
Rocket and gorgonzola bruschetta
Dessert Selections
Passionfruit curd tartlets
Warm butterscotch brownie squares
Mini raspberry and pistachio meringues
Blueberry and lemon tartlets
Apricot and coconut macarons
Baby coffee and walnut sour cream cakes
Bowl Food
Green chicken curry, coconut rice
Braised venison, chestnuts, crispy bacon, polenta
Moroccan spiced vegetable tagine, pomegranate and pistachio cous cous (v) chipolatas, Wholegrain mustard mash, sweet red onion gravy
Red pepper, spinach and mozzarella frittata (v)
Braised pork cheek with prunes, apple and cider cream sauce, sauté potatoes chilli beef, noodles, Guacamole crispy fried onions
Slow cooked lamb shoulder, garlic and rosemary crushed potatoes
Caponata, macaroni, parmesan cheese (v)
Afternoon Tea
Selection of crustless sandwiches
Chicken and watercress mayonnaise
Cucumber and cream cheese
Selection of homemade cakes
Freshly baked scones with jam & cream
Tea coffee and herbal infusions
Contact us to discuss the choice of food for your event
Call +44 (0)1328 820802
email us: Here